FRIDGE FREEZERS
Portable fridge freezers are ideal for camping & 4wd trips, ensuring food & drinks remian fresh, chilled or frozen regardless of ambient temperatures.
A few years ago ARB in conjunction with Engel Fridges created a new product range soley for ARB stores. With this new range they could offer Australia wide warranty on any Engel ARB badged products. Their product range goes from 32 litre capacity to the huge 60 litre. There is also a combination 25 litre freezer & 32 litre fridge available. Transit bags are also available, they help insulate and protect the fridge from scratches & dents. Fridge slides are also a smart option as trying to slide a full fridge forward to get at the contents can be extremely heavy.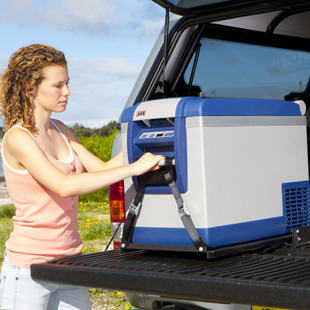 Evakool is another big player in the Portable Fridge Freezer market, and are made in our own back yard. Their range of fridge freezers starts from 55 litres to 90 litres and come with two internal baskets and a freezer cover. The cabinet is constructed from high impact polyethylene averaging 45mm in thickness. These units can be used as half fridge half freezer, all fridge or all freezer. They are portable lightweight and extremely tough. They include a bung for easy draining & cleaning. They have a low voltage protection setting and come with a five year warranty on the entire fridge.